About Us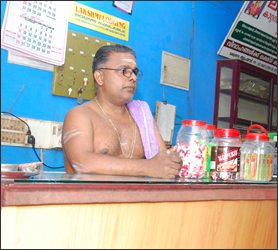 Nambeesan's Lakshmi pure brahmin's Cafe and other concerns started as a small teashop around 50 years back by Krishnan Nambeesan, founder of present Lakshmi Concerns. Mr. Harikrishnan, S/o. Krishnan Nambeesan and his brothers developed it to the present condition. In the year 1990 they have established catering services and started undertaking marriage feast and all type of reception parties (Indian & Chinese). By 2010 they are offering Lodging facilities for the people who wanted to visit Thriprayar Temple, since they are very closer to the temple.

TRIPRAYAR SREE RAMA MAHA TEMPLE :
A BRIEF SKETCH
Triprayar Sree Rama Maha Temple is one of the most important Puranic Temples in Trichur (Thrissur), the cultural capital of Kerala. Situated at Triprayar, on the western bank of the river, 'Sreepriya', almost equidistant from four other temples at Trichur, Guruvayoor, Kodungallur and Irinjalakuda, Sree Rama Temple is one of the oldest temples in South India. It is believed that some fishermen, who were fishing in the Arabian Sea, came upon four Vigrahas (idols) of Sree Rama, Bharatha, Lakshmana and Satrughna. They entrusted the idols to the local ruler and be consecrated them in accordance with the directions given by famous astrologers, the idol of Rama at Triprayar, the idol of Bharatha at Irinjalakkuda, the idol of Lakshmana at Moozhikkulam and the idol of Satrughna at Payammel, all in Thrissur district. Sree Rama Temple is situated right in the middle of Manappuram beautiful island extending from Chettuva upto Kodungallur river and canal on three sides and Arabian Sea in the west.